with IKEA, Target, TJMaxx & Value City Furniture
Greg and I have gotten really into antiquing. We've spent the last few Sunday's checking out different antique stores in Columbus, Westerville and Dublin and we've seen some pretty amazing things!
It inspired us to give our living room a little bit of a refresh. When we first moved in, I thought 'Why bother putting effort into decorating? It's just an apartment and we wont be here long.' Well, turns out I was wrong in thinking this way. Living in a space that doesn't feel inviting isn't fun. It made us not want to be there and home is the one place you should feel most comfortable! So, we decided we would buy a few different pieces over the span of a few weeks so that it wouldn't hit our pocket so hard.
Couch – Value City Furniture (linked here)
The couch I got a Value City Furniture and it's currently half price! We got ours months ago and ordered it without the middle piece because we didn't want it to take up to much space in our living room.
Boomerang Room (Check out their site here)
The first thing we added was the greenish/beige chair that we got at Boomerang Room in Clintonville. This is one of the better vintage/antique stores we've been to. Everything is clean and in pretty great condition.
The Mirror – Target (linked here)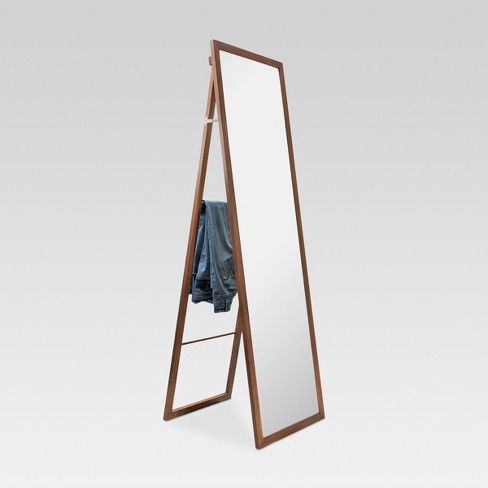 I had been searching for a mirror for awhile. I didn't want to spend hundreds of dollars on something for a space that we may not be in in a few months so it was a long search. Finally, this one came up on sale at Target. It was only $52! Can you believe it?! it's on sale now for under $67 The back holds blankets or if you put it in your bathroom, towels! I love a multi-use anything.
End Table – TJMaxx
The end table is a TJMaxx special and can't be linked but it's super cute and was only $40 (it was on clearance). There was plenty of them in the store so if you like it, I suggest taking a ride over to your local TJMaxx ;). I linked a similar style here ( I kind of like these better! it's a set of two)
Rug, light, and plant – IKEA (rug linked here; light linked here; bulb linked here; plant pot is linked here)
We sprang for the rug, the small light on the table, and the plant this past weekend. All 3 are from IKEA. I love, love, love this rug! Bono destroyed the last one, but he's finally potty trained now so fingers crossed he doesn't muck this one up!
Let me know what you think in the comments below!
with love & gratitude,
stef